Patricia Carrigan
Headlands Exhibit
Art Opening Reception
Friday, September 29, 2017
Meet the Artist 6-9 pm
Artist Statement:
I have always been visually drawn to human faces and heads – the eyes, nose mouth, hair and skin. A face can tell so much about a life lived, evidence common family traits, and connect us to each other. The head is where our consciousness lies. It houses the intellect and sits atop the body.
Gallery Hours:
Fridays 6-9 pm
Saturdays and Sundays 11-4 pm

122 Main Street, Lower Level, Collinsville, CT
www.theundergroundgallery.org 860-693-6689
Live Culture 31 : Sound Objects
September 30, from 11-12 noon
Listen live on WPKN 89.5 fm, online at WPKN.org & as a podcast on

Soundcloud
Guests: Spencer Topel and Huihui Cheng.

During this September edition of the show I talk to two artists who experiment with sound and objects in very different ways. We begin with a live conversation with Spencer Topel who is Assistant Professor of Music at Dartmouth College. From October 25th to November 3rd, 2017 his installation PART DES ANGES will be at the World Music Hall, of Wesleyan University in Middletown, CT.

Bo Bartlett
Saturday
September 30, 2017
Greenwich, Connecticut 06831
Michael Zack - Artist Talk Sunday Oct 1st - 2.00 pm
True Treasure Tales & Legends of Bridgeport
with author Michael Bielawa

In his lecture "True Treasure Tales & Legends of Bridgeport" Bielawa will astonish the audience with tales of the shocking criminal underbelly of Connecticut's largest city. From pirates to gangsters to a forgotten treasure map, Michael Bielawa will share his original research highlighting some of Bridgeport's mysterious lost caches! The lecture will take place
on Tuesday October 3, 2017 at 7pm.
Burt Chernow Galleries, Housatonic Community College, 900 Lafayette Blvd, Bridgeport, CT.


For more information or directions visit www.HousatonicMuseum.org

If any further proof is needed that artists look at the world differently, it's in abundance at Maple and Main's Fall Exhibit.

Find "Hidden Garden" by Bernadette Belizzi or the "Last Picnic,'' a work in felting by Diane Cadrain or how about Cathy Ciardiello's unusual take on "Prickly Pear Cactus"

Muci Clemens chose to depict the back end of an old auto "Leaving the Car Show" while Suzanne Kirschner shows us "Wild Violet Leaves" in a wholly original – and beautiful – way.

"Wordly Birds," is another unique – and also gorgeous - interpretation by Amy Schott while Shirley Mae Neu looks at a spider web with new eyes.

You may get to look through "new eyes" yourself if you visit our gallery's Fall show filled with diverse and original works by 58 artists.

The show runs through Nov. 12
1 Maple Street
Chester, CT 06412

Hours:
Monday & Tuesday: By Chance
Wednesday & Thursday 11 - 5 pm
Friday 11 - 6 pm
Saturday 10 am - 6 pm
Sunday 10 am - 5 pm
also available by appointment

Contact information:
mapleandmain@att.net
l (860)-526-6065
Joyce Kozloff: Girlhood
October 5 - November 4, 2017
Opening reception: Thursday, October 5, 6-8pm
Joyce Kozloff, Calm Sea, Rough Sea, 2017. Acrylic and collage on canvas, 60 x 60 in.
This October DC Moore Gallery presents, Joyce Kozloff: Girlhood, an exhibition that unites the artist's ongoing mixed media cartographic art with recently unearthed childhood drawings. Kozloff discovered folders containing her carefully preserved grade school art during the emotional process of packing up and closing her parents' house after their deaths. Her occasionally phantasmagorical and meticulously painted archaic charts offer a dialogue between the youthful wonderment preserved in her elementary school drawings and adult geographical knowledge. These works bear a riveting similarity to her oeuvre of the last 25 years – maps, charts, decorative flourishes, information organized in graphs, and vignettes that expand the worlds depicted.
535 WEST 22ND STREET, NEW YORK, NY 10011
212 247 2111
INFO@DCMOOREGALLERY.COM
The Barnes-Franklin Gallery,
Tunxis Community College, Farmington, CT
opening reception on October 5th from 4-7PM
The exhibition runs from 10/2-11/3/17
In celebration of the 25th anniversary of the founding of North Country Studio Workshops, we present this exhibition of multi-media work by artists who have attended workshops over the years.

Forty-seven artists will be represented. Sculpture, ceramics, jewelry, fiber art, photography, prints, and many other media are included.

Public Reception


Friday Oct. 6
5-7 pm



Gallery Hours


Monday-Saturday
10 am - 4 pm



Exhibit open


Oct. 6 - Dec. 22, 2017
Announcing our Fall Exhibitions
Fall Exhibits Open on October 6th
Friday Evening, October 6th, 6-8 pm
Suggested donation of $5 for members, $10 for non-members
Friends! Come together in East Rock for a backyard Carolina-style BBQ! Vegetarian sides, 7-cheese mac and cheese,
Black Hog Brewing Co.
craft beer from Jason Sobocinski of
Caseus Fromagerie Bistro
, and delectable desserts! Support the Institute Library, one of the last remaining membership libraries in North America at our family friendly picnic hosted by Jack Hitt, regular on
This American Life
and BBQ zealot.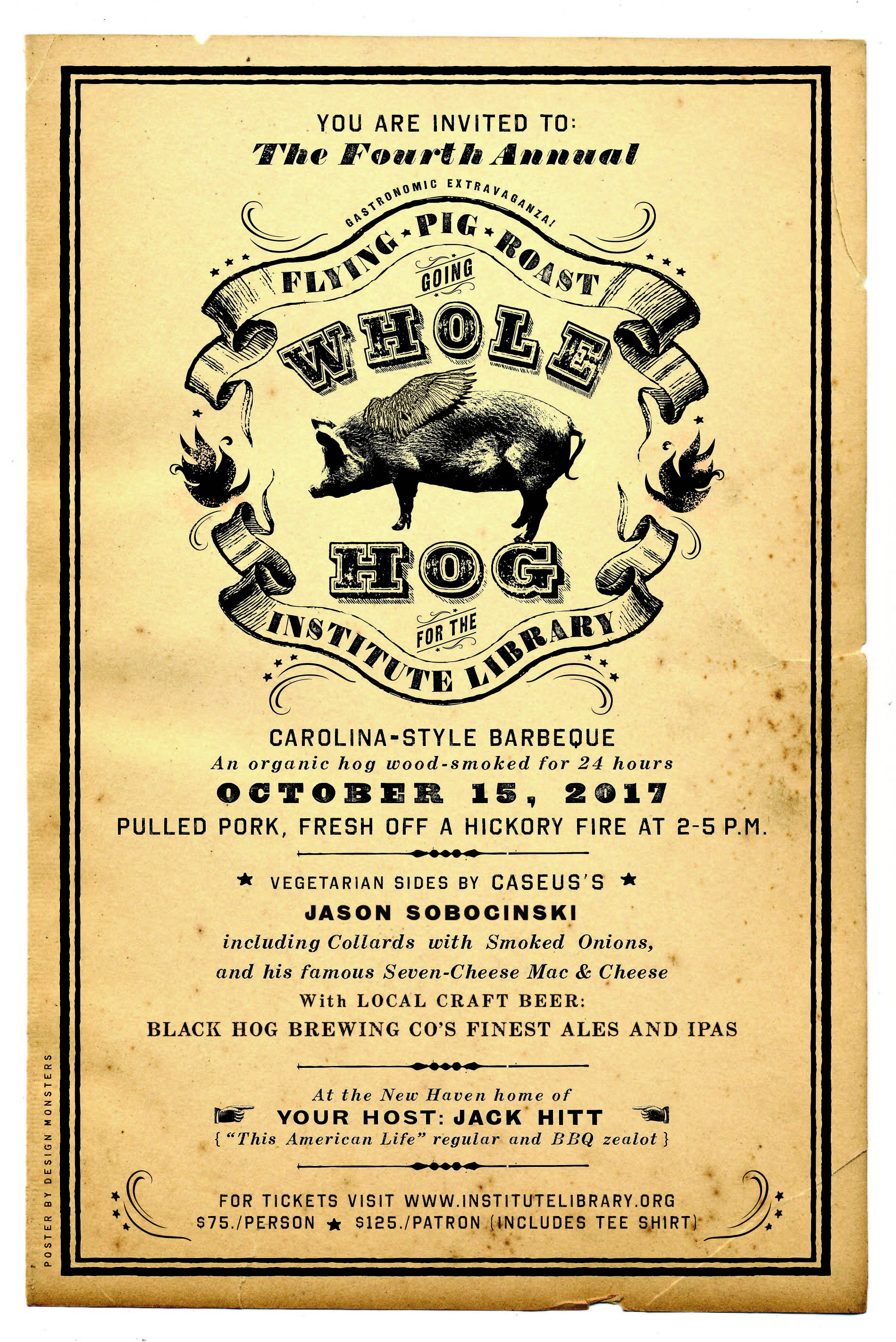 Join us for a fun night
October 19th to support the
Live Music by Goza Latin Jazz
Dancing | Hor d'oeuvres | Cash bar
Live & Silent Auction | 6 - 8:30 p.m
$50 per person
At the Pond House in Elisabeth Park
Tickets can be purchased online:
When Hartford's Melting Pot Turned Brown:
The Puerto Ricanization of Frog Hollow

Photographs by Robert Pawlowski
September 15 – November 3, 2017

Hartford History Center, 3rd Floor
Hartford Public Library, 500 Main Street, Hartford

Audiences are encouraged to share their #ParkStreetStories / #HistoriasDeLaCallePark on Instagram and Facebook by using the hashtag when posting short videos (up to 3 minutes), photos, or text.

From 1900 to approximately 1965, Hartford's Frog Hollow neighborhood was a bustling industrial village, home to some of Hartford's most famous manufacturers including Pratt and Whitney, Billings and Spencer and Pope Manufacturing. Because of its mix of ethnic factory workers including Irish, Swedes, Germans, English, Lithuanians, and French Canadians, it was often called Hartford's "melting pot." But by the 1960s, its major industries began to shut down leading to its decline. By 1975, when the first of these photographs were taken, the neighborhood had reached a low point. Between 1975 and 2000, the Frog Hollow Puerto Rican population grew from 10% to 72%. Pawlowski shows through photographs that the Puerto Ricanization of Frog Hollow brought a revitalized Park Street, rehabilitated housing, safer streets, political power, and cultural exposure.
RIGHT NOW: Artist Jacob Cullers -
Robert Motherwell and Oscar Wilde -
An Observation
Robert Motherwell, artist and unofficial philosopher of the Abstract Expressionist movement, observed the violence inherent in the paintings.
Now, sitting in the gallery, viewing the latest work from the studio of New London CT artist, Jacob Cullers, one is again struct by the transgressive nature of painting. At nearly seven feet on a side, the sheer scale of the painting threatens to engulf the viewers. It is dominated by white heat, explosive yellows and golds highlighted with scorched blacks, viscous reds, and footnoted by mauve grays that might normally provide a visual respite, but instead only add to the vertiginous movement of our free-fall into this maelstrom of molten debris. Cullers' terrifyingly beautiful work is an admonition for the hawkish demon of our nature and acknowledgement of Oscar Wilde's observation - "When the gods wish to punish us, they answer our prayers."
Jacob Culler's exhibit, AMERICAN VOODOO, will be on view in space 106 until October 7. Gallery hours are Wednesday, Friday & Saturday, 12-4 and Thursdays 1-6 PM.
MS17 Art Project, Contemporary Art Spaces
in the Atrium at Harris Place
165 State Street
New London, CT 06320
www.ms17artproject.com
EBK Gallery [small works]
218 Pearl St
Hartford, CT


Felice Caivano | Paintings


On view: through October 28, 2017



"Rii', the plural form of rio – the Venetian name for the small narrow canals that
run beneath the 400 or so bridges connecting the many smaller Venetian islands."
Sea and Stone: The Thimble Islands
Paintings by Arthur Yanoff
On a visit to Branford's Thimble Islands, Arthur Yanoff was immediately inspired.
During his visit, Yanoff filled sketchbooks with drawings and later returned to his studio to create this series of abstract paintings. This exhibition began at the Mattatuck Museum in 2016 and Reynolds Fine Art is pleased to bring the exhibition close to the shoreline that inspired the work.