A panel discussion on juried exhibition practices and procedures will be presented in Five Points Gallery
Friday, August 21 @ 6:00 PM
Featuring Stephen Kobasa: Curator/Arts Writer and
Gilles Giuntini: Sculptor/Retired Professor, Hartford Art School
Moderator: Judith McElhone: Exec. Director Five Points gallery
www.fivepointsgallery.org
860-618-7222
Gallery Hours - Thursday, Friday, Saturday, Sunday 1 - 5 pm and by Appointment
Abstract & Landscape Painting in a New Light
Opening Night
Friday, August 21st 6pm to 9pm
at The Underground Gallery

in Collinsville, Connecticut from

August 21st to September 9th

Join us at the reception for wine, discussions of art, and to feast your eyes! The show is a collection of new work made in my light, airy studio at Hurley Business Park in New Hartford.

Gallery location:
The Underground Gallery
122 Main Street, Lower Level
Collinsville, CT

FRIDAY'S CONTENDERS
LISTEN TO ME MARLON

Dir. Stevan Riley
A spectacular biopic cut from archival footage and narrated by the man himself - Brando's own audio-recorded journals chart the personal and professional life of a man well-recognized on screen but complex, enigmatic, and sensitive in real life.
Dirs. Morgan Neville & Robert Gordon
"...and you'll stay plastered!" Gore Vidal and William F. Buckley's incendiary live television face-off during the 1968 political conventions returns to the screen in this fleet & brutally funny new documentary.
Real Art Ways
56 Arbor St
Hartford, CT 06106
860.232.1006
Art Mora
547 West 27th St, Suite 307
New York, NY 10001
www.artmora.org
Wow Wow Wow
August 20 - September 2, 2015
RECEPTION: Saturday, August 29, 4-6 p.m.
On the Art Mora website,
www.artmora.org
,
on the home page,
click on the title of the exhibit "Wow Wow Wow"
in the upper right
and it will take you to a visual list of some of the works in the exhibition.

Do check out both this particular exhibit and this marvelous gallery!
Best Wishes,
Debi Pendell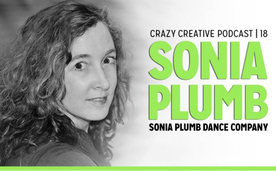 What's it like to be a professional dancer? Where does a choreographer find inspiration? How does the creative process work? What goes into staging a full-length dance based on Homer's 3000-year-old epic poem?
Check out the "Crazy Creative Podcast" for
Steve Raboin's
interview with Artistic Director Sonia Plumb at
SteveRaboin.com. Or you can w
atch it on YouTube or listen on iTunes.
Learn more about Sonia Plumb Dance Company's upcoming production of "The Odyssey: An Epic Dance Journey" on our
website
or
Facebook
page.
2015 LANDSCAPE EXHIBITION

August 26 - September 26, 2015
Opening Reception Saturday, August 29 5 - 7 pm.
William Baczek Fine Arts, in Northampton, Massachusetts is pleased to announce the opening of the 2015 Annual Landscape Exhibition. The show will be on display from Wednesday, August 26 until Saturday, September 26, 2015. The public is invited to an opening reception with the artists on Saturday, August 29, 2015 from five to seven p.m.

This year nine artists from across the country who work in a variety of media have been invited to participate in the exhibition. The annual Landscape Exhibition at William Baczek Fine Arts gathers artists who push the boundaries of what can be described as a landscape. Working in a variety of media, these artists have been selected to help redefine what the typical notion of what a landscape can or should be.
Selections from current and previous exhibitions and works by other gallery artists are available for viewing on the gallerys web site at www.wbfinearts.com. For more information about this or upcoming exhibits please call the gallery at 413-587-9880 or e-mail at info@wbfinearts.com. The gallery is located at 36 Main St. in downtown Northampton, Mass. and is open Tuesday and Wednesday 10 5, Thursday Saturday, 10 - 7, Sundays from 12 - 5.
Experience 6 World Premiers!
You are also welcome to join us for a post-concert wine and cheese reception at I-Park.
Enjoy 6 additional premiers of works for solo instrument
- performed within I-Park's beautiful landscape.
Purchase Tickets Online
You're invited to the opening reception of
Mas: Costumes from Hartford's
West Indian Community!
5:30 - 7:00 pm
One Elizabeth Street, Hartford, CT

Free and open to the public. Everyone welcome!

Dear Friends,

The Connecticut Cultural Heritage Arts Program (CHAP) has moved to its new home at the Connecticut Historical Society in Hartford! Please join us for the first of our exhibits here at the CHS.

Mas: Carnival Costumes from Hartford's West Indian Community opens on August 27, 2015. The exhibit highlights the work of this year's Mas Camp students and volunteers, who created their own traditional Carnival costumes and performed with them at the West Indian Parade and other community events this summer. We'll have music by the Hartford Steel Symphony, delicious Caribbean food, and masqueraders wearing vibrantly colored costumes. The teens will receive their certificates of completion of the six-week intensive work-study course. The Mas Project was originally developed with the Institute for Community Research.

This exhibition is sponsored by Ellen M. Brown. Additional support for the Mas Project was generously provided by the City of Hartford Arts and Heritage Jobs Grant for 2015, Pedro E. Segarra, Mayor, the National Endowment for the Arts, the Connecticut Office of the Arts, the Institute for Community Research and the Connecticut Historical Society.

Made In Bridgeport and Gallery 1212 are gearing up and joining forces with our incredible creative collaborators for the Bridgeport Art Trail and we would love to share some space during this city wide event here at the Bridgeport Innovation Center

. The Owners are allowing us to open up some of the empty spaces for the event and we are looking for artists, film makers, musicians, poets, dancers, and creative beings who want others to see the work that they are creating. There will be a small fee to cover insurance during the event. If interested or know of someone who might be please contact me at madeinbridgeport@gmail.com

.Bridgeport Art Trail takes place from Thursday November 12th to Sunday the 15th. Set up date is Friday the 13th and opening at Bridgeport Innovation Center will be Saturday and Sunday- time will be determined as we move forward. Deadline for submitting your interest is Tuesday August 18th by 5pm. Include a brief description of your work and what you would like to do during this event. www.bpt-art-trail.org
www.made-in-bridgeport.com